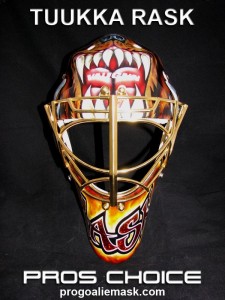 PROS CHOICE
CUSTOM MASK
Please take note. All Masks are custom made to order.
Make sure you decide the type of cage you want with the mask.
Tri Cat Cage, Double Bar Cage or Certified Cage.
Additional Images
Description
Every Pro's Choice mask is hand made by Dom Malerba from the actual mold of the goaltenders face. Pro's choice does NOT FOAM FIT a mask and we DO NOT press fit a mask with a one size fits all mold. No two Pro's Choice masks are ever the same, the result of hand making each individual mask for proper fit. Each mask is custom made using Aramid fiber, graphite, fiberglass and epoxy resin. Pro's Choice NEVER uses a hi-compression machine to press the layers together into a mold. This can result in uneven distribution of the epoxy and allow for cracking. The painstaking process of making a goalie mask by hand ensures the ultimate protection available. Deflection of impact. The result of over 20 years of experience.  Get your mask, made your way.
Material: A new energy dispersing fiber designed for NASA and the US Military. It is combined with a new special designed epoxy resin, tested on fighter jets. The new materials allow for the mask to be lighter and stronger than the original.
Cage: A custom made Tri Cat cage with the new virtually indestructible front bar. The highest grade stainless steel available.
Liner: The new liner is made from impact molded foam.