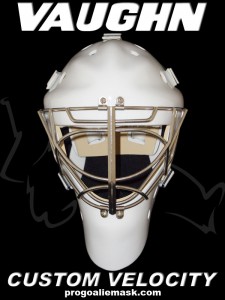 PROS CHOICE
Velocity Custom
Please take note.  All Masks are custom made to order.
Make sure you decide the type of cage you want with the mask.
Tri Cat Cage, Double Bar Cage or Certified Cage.
Additional Images
Description
Pros Choice custom Velocity goal mask features an extra wide facial opening to enhanced vertical and peripheral vision.  It has a complete composite outer shell. Constructed with Carbon and Aramid fibers for lighter weight and strength. The shell is hand molded and infused with epoxy resin to ensure complete saturation of the composite fibers and heat cured to provide durability and a smooth finish. The shell shape is carefully designed and contoured to move impact loads away from the frontal impact areas. The cage design is a Pro's Choice Tri Cat cage for safety and true vision, Cage bars placed to achieve optimum clarity and features stainless steel construction for durability and low glare. Internal padding of lightweight pro foam. Custom made to your specifications.
Material: A new energy dispersing fiber designed for NASA and the US Military. It is combined with a new special designed epoxy resin, tested on fighter jets. The new materials allow for the mask to be lighter and stronger than the original.
Cage: A custom made Tri Cat cage with the new virtually indestructible front bar. The highest grade stainless steel available.
Liner: The new liner is made from impact molded foam.